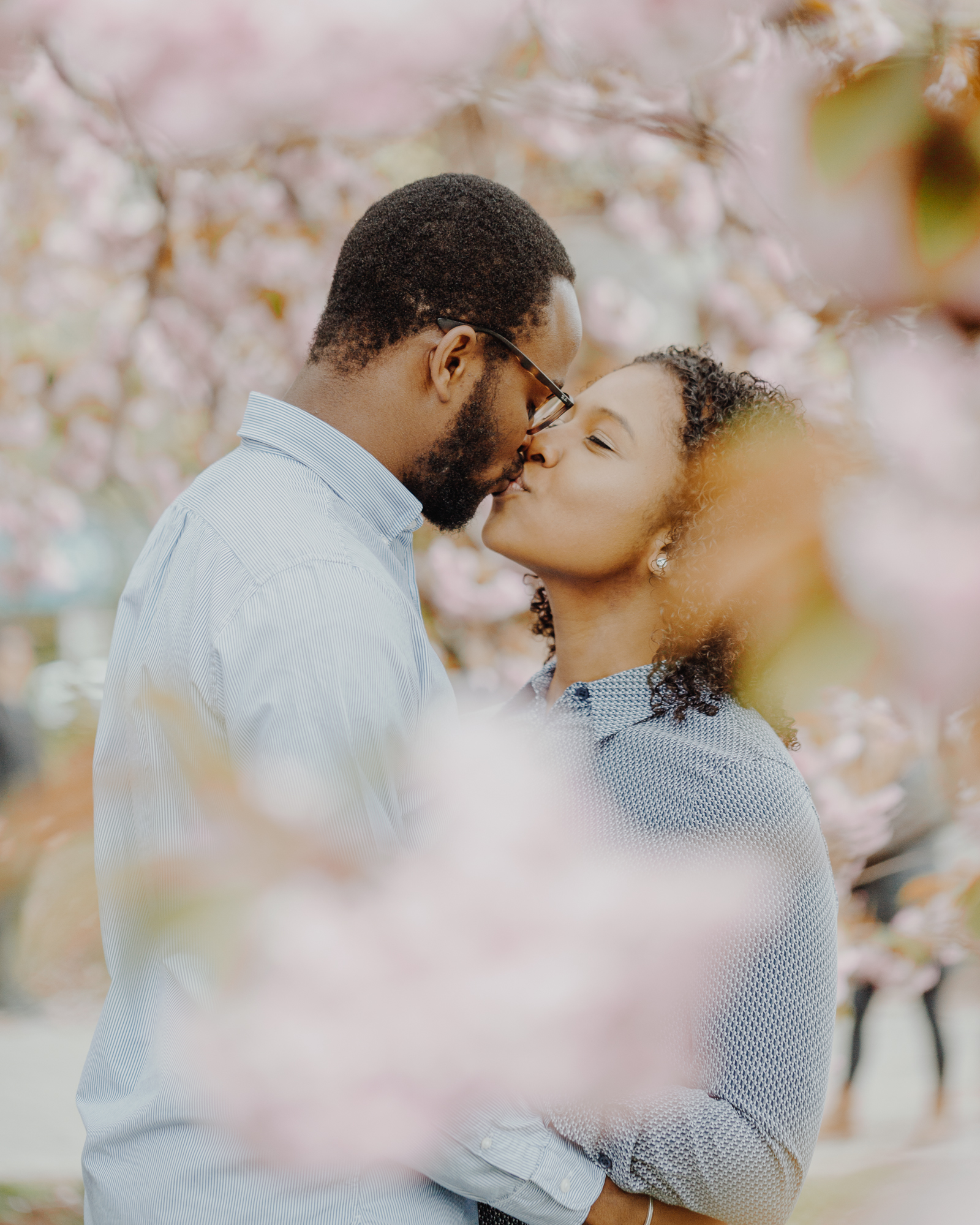 Every year, hundreds and hundreds of people gather in Prospect Park for the beautiful spring blossoms. Ayo & Simone had reached out to do a session while they were both in New York, so of course we had to head over to see the spring blossoms in Prospect Park.
Prospect Park Spring Blossoms
We forewent the Sakura Festival in the Brooklyn Botanical Garden in favor of the trees blossoming in Prospect Park. If you're looking for some lovely blossoms but you're not a fan of crowds, just take a walk around Prospect Park. In the spring there are dozens of lovely trees with varied blossoms that don't have the same crowds (or pricing!) as Brooklyn Botanical Garden. There are tons of low-hanging, beautiful blossoms to take photos with.
Respecting the Environment when Photographing with Blossoms
When taking photos with spring blossoms in Brooklyn, it's very important to remember to respect the environment. So many lovely places in nature are being harmed because of the desire to take beautiful photos. Taking photos with nature can be gorgeous, but trampling flowers, breaking off branches or blossoms, littering, and being disrespectful of the environment is not worth it just to get the shot. We will always respect natural environments to the fullest when using them for shoot locations.
Grand Army Plaza Photo Shoot
Arguably the most iconic part about the top of Prospect Park is the arch at Grand Army Plaza. Ayo & Simone were complete naturals standing beneath the gigantic archway, laughing and enjoying each other's company. We also used the fountain at Grand Army Plaza to create some wonderful effects with sunlight in the water.
Prospect Park Couples Photography
Ayo & Simone were so lovely to work with in Prospect Park. We loved that they were up to try out different things to see if we could get the shot. We were so lucky that the Prospect Park blossoms were out in full force, given that there were heavy thunderstorms the day before and wild winds the day of. The blossoms persevered, and so did we, to create some memorable images for Ayo & Simone to look back on.