Unique NYC Wedding Venue Ideas
It can be difficult to plan a wedding in New York City. There are a ton of venues, but there are also more people in this city than, well, most places. When considering your wedding venue, think about some alternatives to your typical NYC wedding venue. Skip the battle royale for the same venue everyone else is looking at. These unique New York wedding venue ideas might give you a little something to think about before you make up your mind. Take a look at these unique NYC wedding venue ideas.
Photo studio wedding venues in NYC
Using a photo studio as a wedding space is a great idea for couples that are looking to design their wedding from the ground up. Typically well equipped as event spaces as well, photo studios are a great option for those with a flair for design… or hiring someone with said flair! Venues like The 1896 are perfect examples of how a space can double as a photo studio and a unique NYC wedding venue.
Host your wedding at a New York coworking space
New York City coworking spaces sometimes double as event venues. With so many people working on startups and solo projects in NYC, there are dozens of coworking spaces to look into. Take a look into some spaces that host events on the weekends and see what the possibilities are. Bat Haus is an awesome example of how a coworking space can be transformed into a wedding venue.
Restaurants & brewery wedding venues in NYC
Restaurants do double as event spaces a lot of the time. They'll also save you the hassle of looking for a caterer–– restaurants will typically only use their in-house catering, and breweries will use their preferred catering vendors. There are gorgeous spaces like MyMoon that are a restaurant on your typical weeknight, and so much more for a wedding.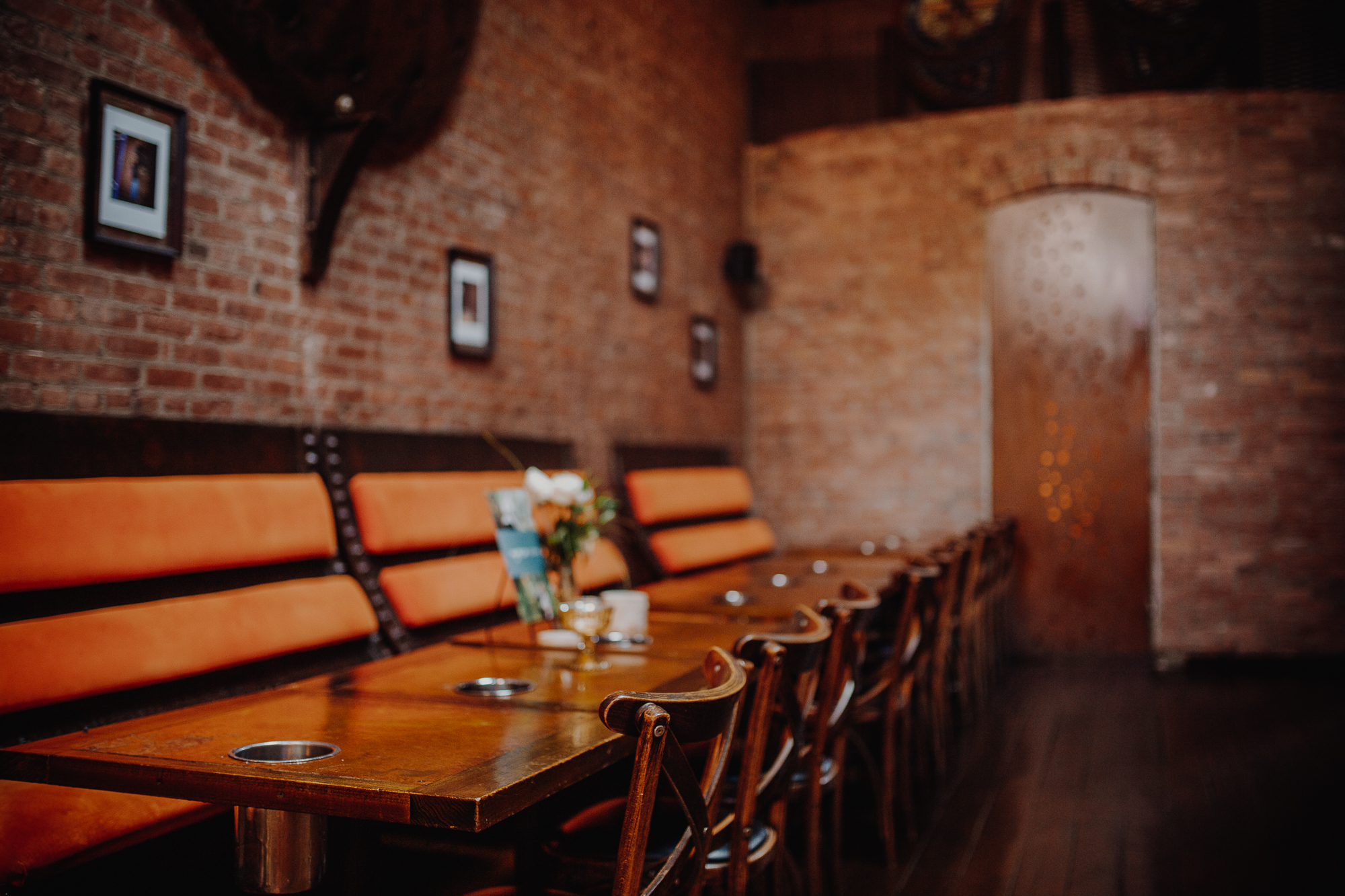 Coffee shop as a wedding venue
Some coffee shops close around 3:00 PM, which leaves an entire evening open for festivities. Look into some of your favorite coffee shops that have the amount of space you're looking for. Test the waters and see what your options are! Plus, if you're a couple that loves coffee, this is a great way to add a personal touch to your wedding day.
Wedding venues on Peerspace
I kid you not, take a look into Peerspace. It's like Airbnb but for event spaces. It's an easy way to come across the ideal unique NYC wedding venue you didn't even know you wanted. These typically go by hourly rates, so take a look and quote out your unique New York reception venue on Peerspace.
Art Galleries
Art galleries, similar to photo studios, are a great event space to have a blank canvas. There are a lot of galleries that aren't doing business at night… which is great news for your wedding reception. Take a look into some local NYC art galleries that host weddings and see what your options. Some art galleries in New York will give you a completely blank space for a wedding. It's the perfect idea for someone with a lot of design vision for their unique wedding venue in New York.
Use Airbnb

to find a wedding venue
Again… I'm not kidding here. You can really book a wedding venue through Airbnb. However, Airbnb isn't necessarily designed to search for wedding venues. To do this, you have to be a bit crafty. Rather than searching Airbnb directly for Wedding Venue in NYC, Google "site:airbnb.com wedding [city name]". This calls up listings that are specifically catering to weddings. There are usually a handful of Airbnb listings that can make for perfect wedding venues, and are okay with catering to that occasion. It is NOT recommended, however, to throw a wedding at an Airbnb without them having prior knowledge. For listings that are specifically designed for events, Airbnb can be a great resource to find a unique wedding venue in New York.
Did you book a unique wedding venue in NYC?
Let us know! We're SO interested in the different options out there for wedding venues. We had ours in a photo studio. It was a totally amazing experience because we got to design our wedding from the ground up. Every detail was hand-picked by us, which made for an exciting and personal experience.