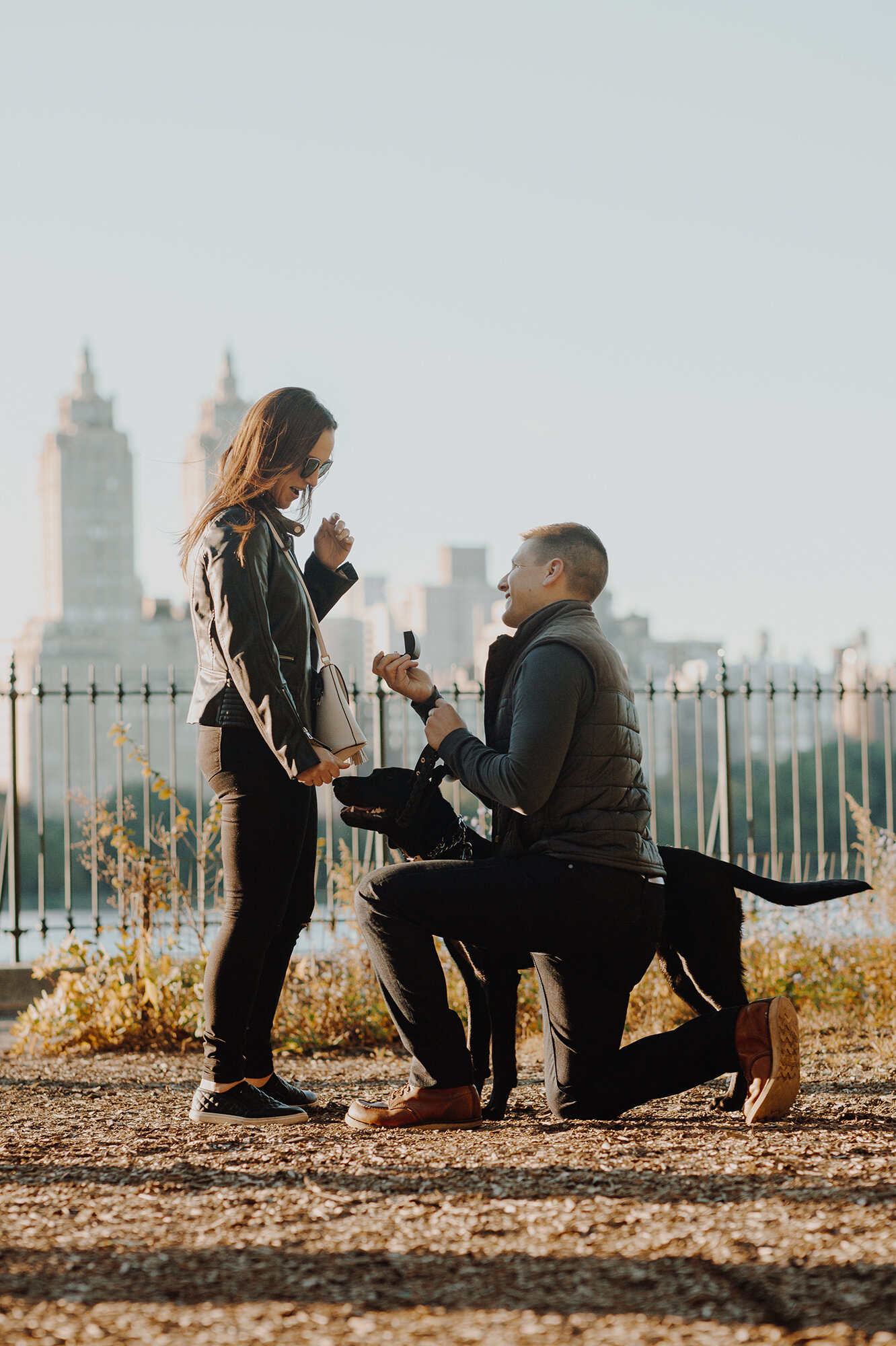 Secret Proposal Photos in New York – John & Stacey
John reached out knowing exactly how he wanted his proposal with Stacey to go down. He had the spot planned out and everything. It was time to plan for some secret proposal photography in Central Park. We were happy to take on John's New York secret proposal photography plan and capture the big moment where Stacey says YES!
Central Park Secret Proposal Photography
John came to us as a man with a PLAN. He knew exactly where this was going to go down. They took their puppy for a walk together around sunset on a beautiful Friday evening. Central Park can get quite crowded, but when the weather starts to cool, you can get some great shots without having to worry about as many tourists. John and Stacey's secret Central Park proposal photography plan went off without a hitch.
Stacey Says Yes – Surprise New York Proposal Photographer
Stacey said yes and was totally surprised that John got the moment captured on camera. Their dog was pretty stoked on the engagement, too! We took Stacey and John on a walk around the area to get some beautiful photos together. As the sun began to set, we captured flares and warm tones that matched the warmth of the occasion. (Plus, we nabbed a gorgeous close-up shot of Stacey's brand new engagement ring!)
Photos from John & Stacey's Secret Proposal Photography
Take a peek through some of the images from John & Stacey's Central Park surprise proposal photography. Congratulations, you two! What a beautiful moment to start the beginning of your next chapter.
Planning your own surprise proposal?
We want to help! Shooting surprise proposal photography is one of our favorite things to do. The magic and happiness in the air is an unforgettable moment for everyone involved! Give us a shout and let's see how we can work together.